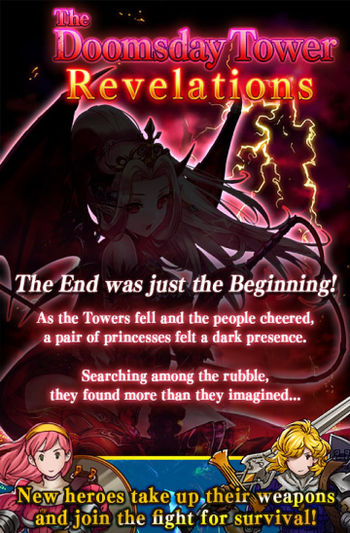 Note I have tagged this as Training Tower.
The Mechanics of this Event
This is a brand new event to Fanta community so I will do my best to explain it.
This is very similar to a training event in which you take steps to progress through the tower. Each step takes an amount of TP which is listed on the tower that you are exploring. If you fight a monster during a step you are rewarded with BT. Each time you take a step you may randomly encounter quest like Monster Swarm in which you can fight or flee. You can deploy up to 2 of your own units and 4 allies. If you succeed in completing it, you are rewarded with BT.
Defeating a mob may sometimes drop artifacts and can be gained also by battling others. Completing a set of artifacts will give you a new unit (only one unit can be claimed)
On the 10th floor of every tower, there is a boss where you deploy 1 of your own unit and 3 allies. Defeating the boss will allow you to progress and reward you with BT. If you fail, you will drop a random number of floors and have to climb them again. Bosses will also drop a random amount of Night Stones (will be explained later).
Completing each tower you are rewarded with a unit as listed on the notice.
After you complete a tower you can choose to revisit anyone you like.
Towers
There are three towers you can initially choose to explore - Agony, Chain and Light.
Agony - 30 Floors
Chain - 60 Floors
Light -  100 Floors
Crimson - 120 Floors
Demon - 150 Floors
During exploring the Agony, Chain and Light towers, there is a chance you can enter the Crimson or the Demon tower. These will only stay open for 15 minutes, after which time you will be kicked out. You can enter them again using the Night Stones, the Crimson is 3 Night Stones and ??? - 7 Night Stones. The Crimson and the Demon Tower reward you with much greater BT than the three others.
Sun Stone
When used they increased the BT gained from taking steps, defeating swarm and bosses. They last for 15 minutes. These can be gained from floor rewards and can be purchased with packs.
Admin




Posts

: 110


Join date

: 2016-10-18


Age

: 24


Location

: Germany



Similar topics
---
Permissions in this forum:
You
cannot
reply to topics in this forum